Pore Vacuum Suction Blackhead Remover & Cleaner
WHY SHOULD THE SKIN VACUUM BE YOUR FIRST CHOICE TO FIGHT AGAINST BLACKHEADS?
Blackhead Remover Vacuum easily removes blackheads using micro-suction technology all while reducing the size of your skin's pores. By penetrating deep below the skin's surface, the pores are rid of excess oil and dirt, making your skin cleaner and smoother.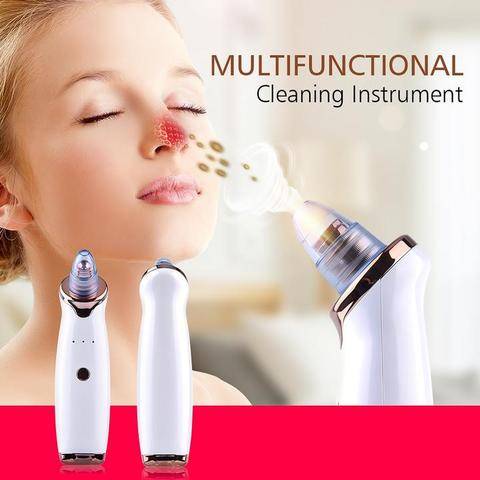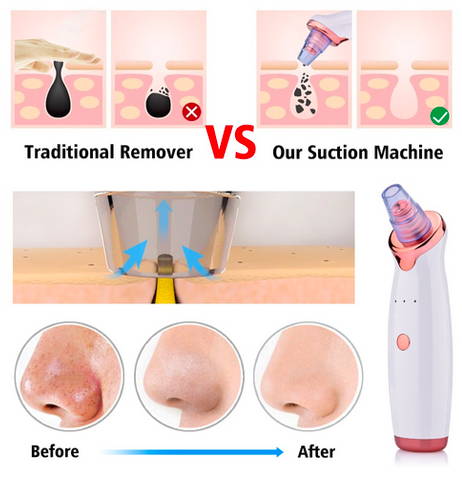 It is the newly invented solution to shrinking large, oily pores. Everyone is sick and tired of large pores and blackheads! Sispop™ Blackhead Remover Vacuum has a stronger suction power than other's with 5 level of suction, suitable for different skins also helps to remove dead skin, blackheads or dirt that causes Acne!


Pore Vacuum Suction Blackhead Remover & Cleaner Features:
The exfoliating tip provides a non-invasive treatment to rub off the top skin layer to remove the dead cells. Makes skin smoother, with a more refined texture, and firmer by stimulating natural cell renewal. 
The vacuum lift system creates a gentle stimulating massaging action, stimulates microcirculation, with a firming effect on the skin. 
Unique small round hole design, perfect for blackhead and acne removal. It thoroughly removes dirt trapped in pores, hence reducing acne.
 Unique small elliptical hole design, gently massaging the face, stimulating blood circulation and cell renewal, reducing the appearance of fine lines.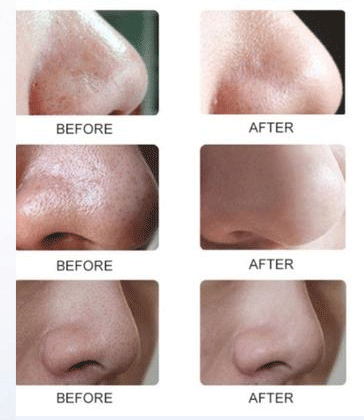 Pore Vacuum Suction Blackhead Remover & Cleaner BENEFITS:
Safely remove blackheads and whiteheads using professionally calibrated vacuum suction technology 
Cleans pores to also treat acne 
Also used as a treatment for sagging & wrinkling skin 
Rejuvenates skin, leaving it feeling healthy & refreshed 
Minimizes the appearance of large pores and helps to remove dirt that causes acne & blackheads 
By penetrating deep below the skin's surface, the pores are rid of excess oil and dirt, and the skin is smoother and cleaner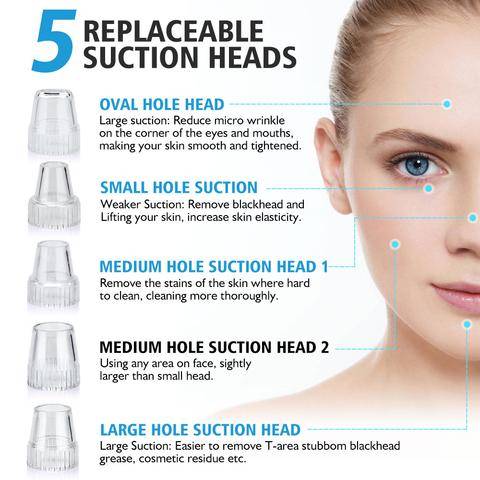 How to use Pore Vacuum Suction Blackhead Remover & Cleaner:
Open up your pores by taking a hot shower, or placing a hot towel on face until the towel reaches room temperature 
Our device suction is strong, we recommend starting on the lowest mode then gradually working your way up 
Gently work your way around your entire face for 4-7 minutes, watching as the vacuum sucks the gunk out of your skin 
Once finished, rinse your face with cold water to calm the skin and close your pores.
You may finish by applying a facial cream of your choice (optional) or simply allowing your pores to breath.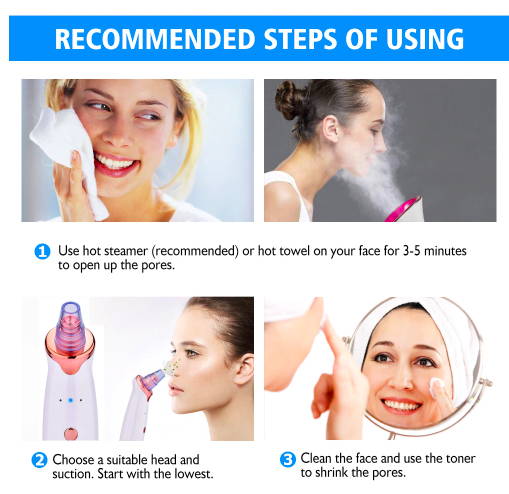 The Five Beauty Heads:
Microcrystalline Head

:

 

For full dead skin exfoliation. Offers a micro-lift massage to brighten and tender your skin 
Small Hole Head:

 Removes blackheads. It has a weaker suction, which is suitable for sensitive skin 
Big Hole Head

: Removes blackheads, grease, and cosmetic residue. It has a stronger suction which is suitable for stubborn blackheads 
Oval Hole Head:

 Reduces micro wrinkles on the corner of eyes and mouth, making your skin smooth and tightened 
Elliptical Hole Head

: Firms your skin, removes fine wrinkles and increases skin elasticity. Suitable for the inner corners of your eyes and/or corner of your mouth
Step 1:

 Warm your face with either a hot shower or warm towel for 2-5 minutes to allow your pores to open and soften 
Step 2: 

Choose your desired beauty head stop 
Step3: 

Choose your desired suction level by clicking the power button.There are 3 levels for you to choose from 
Step 4: 

Evenly apply suction on your skin in a slow outwards gliding motion, as this technique will promote lymphatic drainage
Step 5

: Hold a cold towel on your face for 1 minute to close your facial pores. Apply moisturizer after your treatment to re-hydrate your skin to promote healthy & radiant skin growth
1 x Beauty Machine
5x Hole Head 
1 x USB Charger
1 x User Manual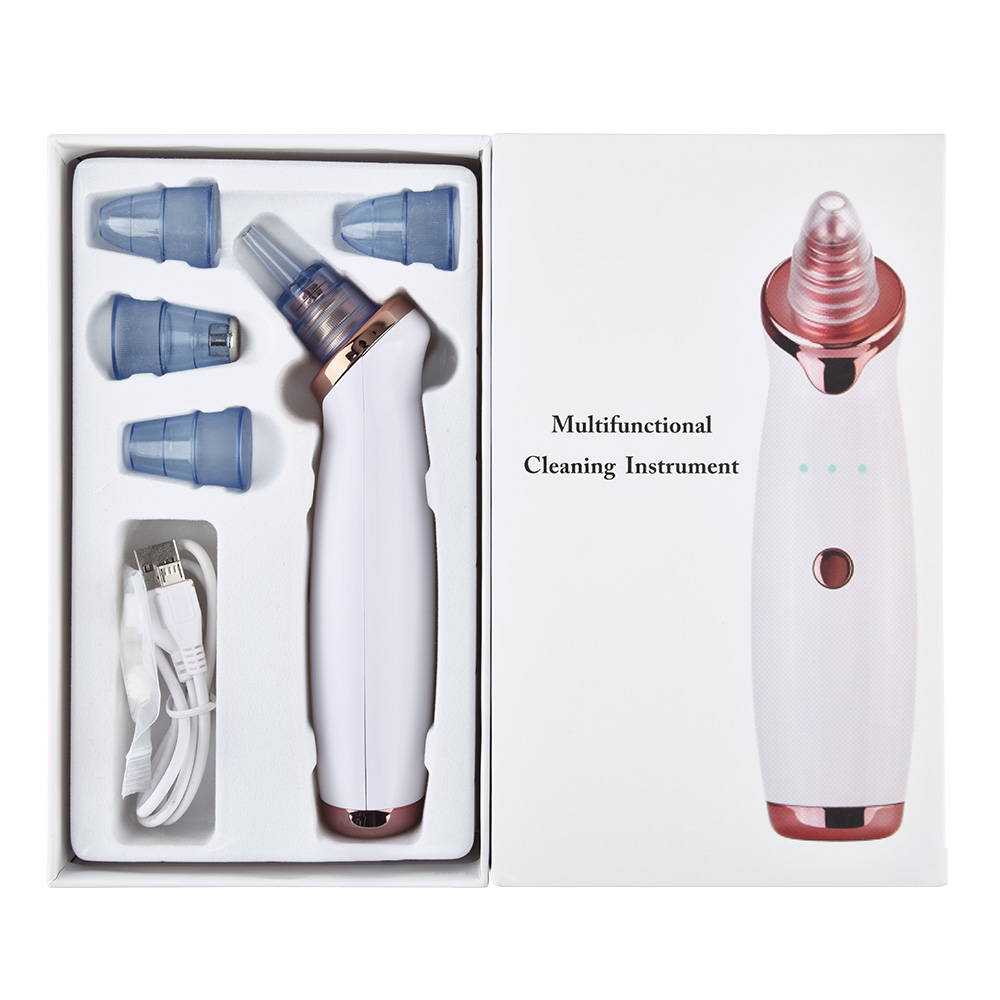 OUR GUARANTEE
We truly believe we make some of the most creative inventions and we back that up with an Iron-Clad 100% Customer Satisfaction Guarantee. If you don't have a positive shopping experience for any reason, we will do whatever it takes to make sure you are 100% satisfied with your purchase.

Shopping online can sometimes be a daunting task, so we want you to know there are absolutely zero risks in purchasing something and trying it out. If you don't like it, no hard feelings, we'll make it right.

We have 24/7/365 ticket and email support. Please contact us if you need assistance. We are here for you.
Shipping

Due to high demands, please allow 7-21 business days for delivery.
FAQs

Frequently Asked Questions

Question: How long does the battery last after it has been charged?
Answer: It can last 1-2 hours.

Question: Is it available for charging?
Answer: Yes, this blackheads suction remover can be recharged with a USB cable packaged.

Question: Is the facial pore cleaner suitable for all type of skin?
Answer: Yes, this facial pore cleaner is suitable for all type of skin. Once a week for dry skin or sensitive skin, twice for oily skin/ mixed skin.

Question: I have bothered by my many blackheads, does this pore vacuum work effectively?
Answer: Yes, the blackhead remover works effectively to remove your blackheads, pimples, and clean your pores.

Question: Is it waterproof?
Answer: This blackhead cleanser is not waterproof, you need to take down the beauty heads and clean it alone, leave the machine away from the water.